---
Welcom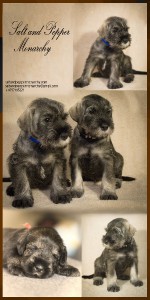 e to Salt and Pepper Monarchy!
When we bought our first Schnauzer puppy, Eni in 2014. With her we have got much more than we hoped, not just a puppy, but a friend and new member of our family, who want to enjoy every hour, every minute and second of her life.
I would say: Schnauzer is not a dog, but a four legged human in a dog skin.
We are showing our dogs all over the Europe. In our kennel we have European winner and also Champions of many countries. We started breeding Schnauzers in 2014 with our first bitch Enigma.We are member of Norwegian kennel club and the Norwegian Schnauzer club. Our dogs are proved by NKK and PSBK. From 2015 we are member of SBK where we use to training the obedience and agility with your dog.